Graph of Damage Changes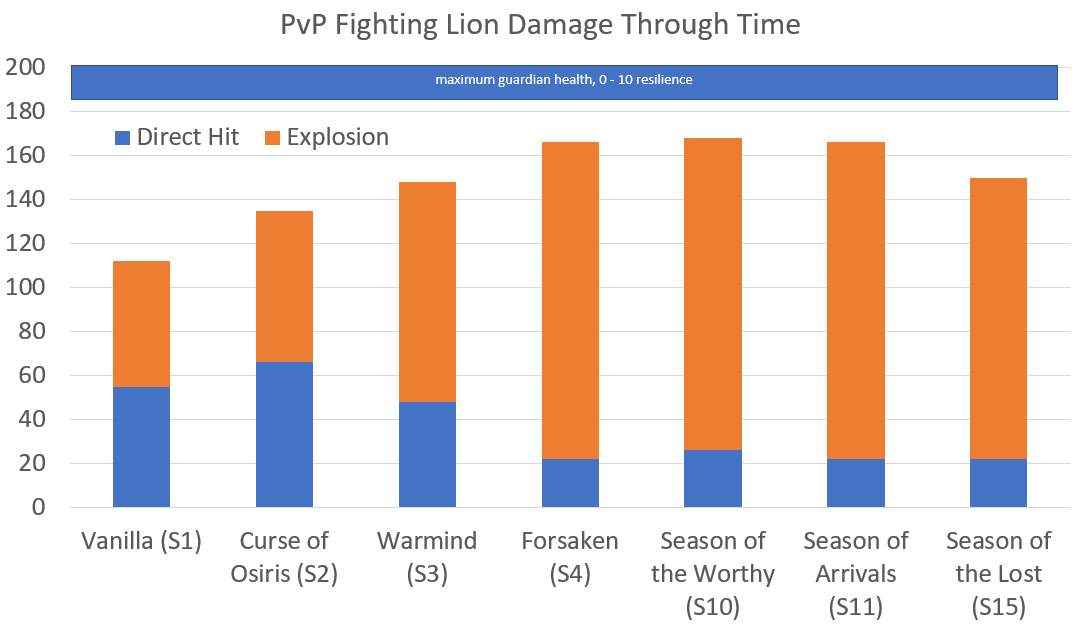 Patch notes:
Update 3.1.0 - Season of the Chosen (13) patch
Breech Grenade Launcher projectiles will now detonate on impact with enemies, even if holding the trigger.
Note: This effectively removes the ability for Lion to one shot in extremely rare/niche situations with a double impact.
Update 2.9.0 - Season of Arrivals (11) patch
Reserve ammo increased increased by 6 grenades.
PvE damage adjusted:
- Explosion damage change: +5%
- Direct Hit damage: -12%
- Overall change: +3%

PvP damage change from Season of Worth reverted
- Explosion damage: 144 from 142
- Direct Hit damage: 22 from 26
- Overall change: 166 from 168

Update 2.8.1 - Guardian Games patch
Fixed an issue with Breech Loaded (Special ammo) Grenade Launchers that resulted in them having a significantly reduced blast radius.
Update 2.8.0 - Season of the Worthy (10) patch
Due to backend changes with the grenade launcher archetype, Fighting Lion inherited minor adjustments
Rate of Fire increased from 72 RPM to 90 RPM
Direct hit damage in PvE is now 35 (Previously 27)
Addition of the Catalyst and Prideglass ornament.
Update 2.0.4 - Forsaken Cleanup patch
Decreased Fighting Lion damage to be brought in line with other breach-load Grenade Launchers
This patch was in response to the fact that Fighting Lion with autoloading rifts/barricades was doing more DPS than Power slot Grenade Launchers.
Update 2.0 - Forsaken Preparation
Converted Lion to use primary ammo. Increased damage.
Update 1.2.0 - Warmind patch
Deals more blast damage and less direct hit damage
Increased ammo inventory
Increased spawn ammo
Kills with this weapon guarantee Energy ammo drop
Update 1.1.0 - Curse of Osiris patch
Increased Fighting Lion damage and changed Thin the Herd perk to now grant bonus ammo rather than pulling ammo from the player inventory